The 14th Annual
Great American Song Contest

A SURVEY OF SONGWRITERS
As songwriters, we understand the value of winning a prestigious songwriting contest. We want to receive positive recognition for our work and find opportunities in the music business.
As songwriters, we also know that some songwriting contests are far better than others.
We've heard that some big contests screen thousands of songs without even consideirng them thoroughly. We don't like the idea of paying high entry fees just so one person can win a big cash prize.
That's why the Great American Song Contest was invented.
<>
THE PHILOSOPHY OF THE GREAT AMERICAN SONG CONTEST:
TO PROVIDE A CLEAR BENEFIT FOR EVERYONE WHO ENTERS
Sponsored by Songwriters Resource Network, the annual Great American Song Contest offers a positive alternative to Big-Cash-Prize competitions.
The Great American Song Contest is based on the philosophy that a good song contest should be less about money and more about providing real opportunities for songwriters. (See Why This Contest Is Best)
In addition to excellent awards and prizes, the Great American Song Contest is designed to offer advantages for every songwriter, composer and lyricist who enters.
Since the first year of our songwriting contest in 1999, many songwriters who participated told us the Great American Song Contest was the best competition they had ever entered. (See Songwriter Testimonials below.)
WHAT SONGWRITERS ARE SAYING
ABOUT THE GREAT AMERICAN SONG CONTEST
"To say the Great American Song Contest has exceeded my expectations would be an understatement. Everything was handled very professionally, the caliber of judging was impressive & the results were more than I could have hoped for." — T. Douglas Bush, San Diego CA
"You offer a wonderful song contest. The low entry fees & song evaluations make it an easy choice. It's really a great idea." — Connie Maxwell, Kill Devil Hills NC
"Thank you so much for a great songwriting contest that's so helpful and encouraging to new songwriters." — Don Campfield, Mishawaka IN

WHY WE SPONSOR A SONGWRITING CONTEST — A BRIEF HISTORY
When the idea of a songwriting contest was first discussed at Songwriters Resource Network, everyone agreed we should sponsor a contest ONLY if it provided real benefits for songwriters.
It was decided we should do a survey of songwriters, lyricists and composers to find out what kind of songwriting event they preferred.
A SURVEY OF SONGWRITERS
To create the best possible songwriting contest, SRN conducted a survey of songwriters from all over the U.S. and Canada. Below are the results, the comments and the suggestions we heard most often.

First of all, some songwriters questioned the value of the large commercially oriented music competitions.
"Frankly, I think the big song contests are often more interested in making money than helping songwriters," said a songwriter from Texas. "I think some songwriting contests just use a lot of hype to get tons of entries. A few people win but everyone else gets zero benefit."

"Some big song contests seem more like song lotteries," commented another songwriter. "It seems like writers pay costly entry fees only to end up paying for the big cash prizes for a few lucky winners."
Some writers who is the past participated in other songwriting contests questioned how thoroughly their songs had been reviewed.
"I've heard that some song contests will often only listen to the first minute or so of the songs," said one Michigan songwriter. "If songs are not even listened to completely, how fair is that?"
"It would really be helpful to get critiques from judges," said a songwriter and lyricist from Tennessee. "I entered one songwriting contest and they didn't even confirm my entry. They didn't give me any feedback about my work. All they did was cash my check."
CREATING A BETTER SONG CONTEST
The songwriters we surveyed offered the following recommendations.
Don't be just another big-cash-prize competition trying to attract thousands of entries
Focus on Quality and Not Quantity
Offer multiple awards & prizes in each category
Offer a wide range of song and music categories
Provide songwriters with evaluations from qualified judges
Help songwriters get heard in the music business
Keep entry fees low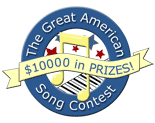 These recommendations were the basis for the first Great American Song Contest, which was launched in 1999. The event soon became a hit with songwriters around the world.
Since 1999, we've added contest categories and many well-known music industry professionals to serve as judges. (See Judges & How Songs Are Judged )
Highlights & Benefits
Multiple awards & prizes in all categories — a total of 50 awards, 5 in each category

ALL entries receive a respectful and complete review

ALL entries receive a written evaluation from a contest judge

ALL contest participants are notified upon receipt of their entries

<>
TOP INFORMATION LINKS
Contest Categories
Prizes & Benefits
Song Contest FAQ
Songwriting Contest Judges
International Entries
Rules & Entry Form
NOTE: This international event is open to songwriters, lyricists & music composers around the world
To learn more about Great American Song Contest winners and hear
their songs, click Award Winners
Copyright © All pages are sole property of Songwriters Resource Network™